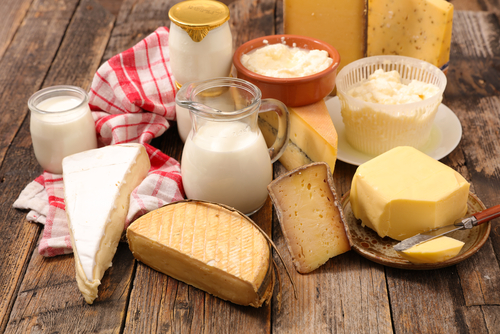 We have more calcium in our bodies than any other mineral. It is present in bones, teeth, nerve cells, blood, and bodily fluids. Having enough calcium in the diet can help stave off horrible diseases like osteoporosis.
Calcium is important for many bodily functions and processes, like building strong bones and healthy teeth, blood clotting, nerve cell communication, muscle relaxation, hormone release, and having a normal heartbeat. Calcium makes up 2% of total body weight, and it helps with disease prevention and nutrient absorption.
If you want to have optimal health and nutrition, then you need to be getting enough calcium. How do you get enough calcium, though? Should you take a pill? That's probably not a good idea. Studies show that artificial vitamins and minerals aren't absorbed as well as food-based minerals and vitamins. Let's look at 11 calcium-rich foods for strong bones.
1. Milk, Cheese, and Anything in the Dairy Category
If you want to make sure you get enough calcium daily, look no further than the milk section at the grocery store. Of course, if you're a little more adventurous, head on over to the yogurt, cheese, or sour cream section and stock up. There are plenty of ways to get dairy in your diet, from a cup of yogurt in the morning to a cheese tray at lunch.
You can also down a glass of milk in the morning, or have it with your cereal. There are endless ways to incorporate dairy in your diet. If you want strong bones for life, add dairy products to your grocery list. At this point, almost everyone knows that milk is a great source of calcium, but you can choose from a wide variety of dairy products if you don't like the thought of downing a glass of milk in the morning.