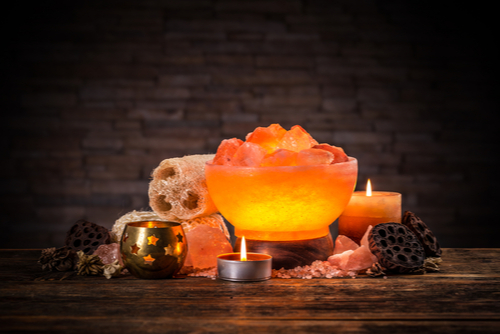 What if you could have the warmth, comfort, and glow of a campfire in your home – without all the wood, fire, and smoke? Well, you can. Himalayan salt lamps offer such a solution. Himalayan salt lamps sound exotic and cool. What are they, though? Himalayan salt lamps are basically big pieces of pink salt with a tiny bulb in the middle. They can take the form of a single piece of salt or decorative baskets with big crystals of salt inside.
They offer a soothing warm glow when they're lit, and they improve the quality of indoor air. They also look really cool. If you put up a few of them in your home, it can add a chill, mellow, and calming vibe to the whole area. Your guests will immediately feel calmer and better. They are both useful and decorative.
1. Purify the Air in Your Home
Air purification is more important than ever, with pollution stronger than it's ever been before in some places. Indoor air pollution is also a big issue, but most Americans aren't aware of how serious it is. Just think of all the cleaning products we spray in our homes. Some of those are more dangerous than inhaling secondhand smoke.
While a lot of people put out specific plants to keep their air clean, not a lot of people know that Himalayan salt lamps can do this, too. A Himalayan salt lamp naturally attracts water vapor, because it's so salty. With this water comes a host of indoor air pollutants, like allergens, molds, and bacteria.
When the water comes into contact with the heated lamp, it absorbs all those pollutants and releases the water back into the air. You probably didn't know that a lamp could keep your air clean, but now you know.