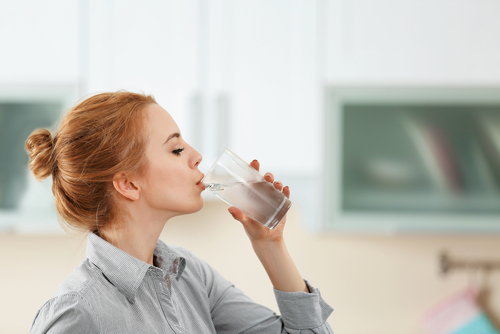 Acid reflux is a highly painful and unpleasant condition that causes patients to regurgitate small amounts of food, often along with painful stomach acids. This can cause a burning sensation in the throat, a very bad taste in the mouth, and damage to the esophagus in the long term which could even increase the likelihood of cancer.
Acid reflux is also linked with indigestion – a similarly painful and unpleasant experience. It is something that can be embarrassing around the polite company and in some cases it can even lead to vomiting.
As you can see then, this is really not a nice condition and if you experience it, you're probably looking for ways to ease the symptoms and to prevent them from cropping up in the first place. In this post, we'll look at 15 home remedies that can help you to naturally stop or ease acid reflux.
1. Water
One of the best ways to fight acid reflux is also one of the least interesting! Simply drinking more water can both help to prevent acid reflux from occurring in the first place and help to minimize the symptoms that it causes.
Firstly, water helps to improve the breakdown of food inside the mouth. This is the often-overlooked first stage of digestion when the body prepares the food to be swallowed and taken into the stomach. Water can dissolve tough bits of food and make minerals and vitamins easier to absorb. It also aids the production of saliva, which is key for our digestion.
On top of this, water helps to ease the burning sensation that comes from acid reflux by neutralizing and diluting some of the acids that cause pain and discomfort. Drink more water throughout the day and during meals and keep it to hand ready for when those symptoms flare-up.