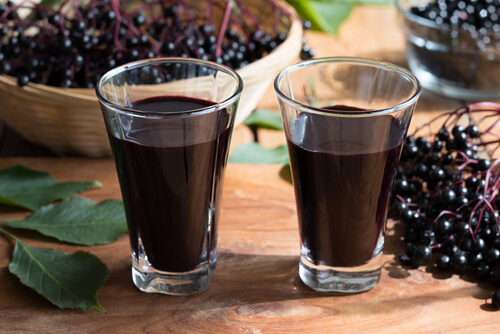 Strep throat is a bacterial infection of the throat. It can make your throat feel scratchy and sore. Strep throat only accounts for a small fraction of sore throats. If you don't treat strep throat, it can lead to serious complications like kidney inflammation and rheumatic fever. Strep throat is seen often in children, but it can affect people of all ages.
Symptoms of strep throat include acute throat pain that comes on suddenly, painful and difficult swallowing, swollen and red tonsils, tender lymph nodes on your neck, headache, fever, rash, nausea and vomiting, and body aches. Strep throat can affect a lot more than just your throat.
It can be a debilitating illness that leaves you lying in bed and unable to go into work. Luckily, there are ways to treat strep throat. Let's look at 15 proven natural remedies that fight strep throat.
1. Elderberry
Having strep throat is by no means pleasant, but there are things that you can do to eliminate the symptoms – or at the very least, reduce them enough to make things better for yourself. One of those natural remedies is Elderberry. You already know that strep throat is caused by a bacterial infection, and that is precisely why the Elderberry is the perfect solution.
Elderberries have antibacterial and antiviral effects that have been shown in research studies. In fact, a recent study showed that elderberries can actually protect you against respiratory disease and symptoms during airplane flights. That's because scientists know that your chances of getting respiratory infections that were due to viruses or bacteria were increased when you are flying.
In this study, those that used Elderberry showed fewer symptoms than the control group. A lot of people drink Elderberry tea in order to protect themselves.