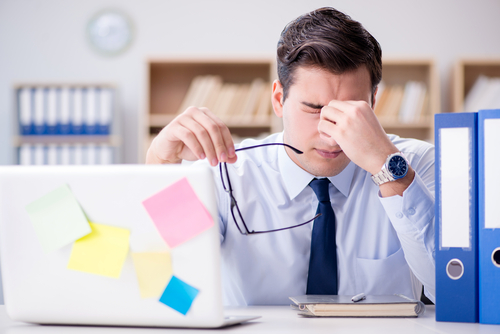 Eye twitching can be annoying, can interfere with your sleep and hamper your social life. There are a number of causes of eye twitching, but it may be difficult to get at the core of the problem. There is a wide range of catalysts that can get your eye to twitch, such as stress, eye strain, eye infections, mineral deficiencies and even serious conditions, such as Parkinson's.
The eyes are among the most vulnerable areas of the body and are fully exposed to the surroundings. They can be the first indication of a serious problem or an allergy. Unlike aches and pains that may go away, eye problems often require immediate attention, because in some cases, vision can be compromised, if only for a few days. The problem may be specific to the eye or be indicative of general health or the development of a neurological problem.
1. Stress
After a rough day, you may look forward to a good night's sleep only to be kept awake by eye twitching. Spontaneous eye twitching can happen in the aftermath of a sudden, traumatic event, such as a house fire or fleeing from a pursuer. However, chronic stress, such as a tough job or debt problems can trigger eye twitching any time of the day or night.
You may notice that your eye twitches throughout the day but that it gets worse if you are faced with a certain stressor. Stress causes eye twitching because it stimulates neurotransmitters and hormones such as dopamine and norepinephrine.
Extended release of these substances leads to ongoing eye twitching. If stress is the cause of your eye issue, the best way to deal with it is to make lifestyle changes, such as taking up meditation or finding new solutions to your day to day problems.