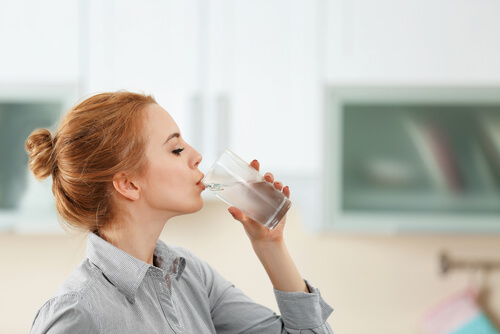 Dizziness is a word that often describes two different sensations. There is lightheadedness and then vertigo. Lightheadedness is what you have when you feel like you're about to pass out or faint. Even though you might say you're dizzy, you don't actually feel like your surroundings are moving. Lightheadedness can improve if you lie down or drink some orange juice.
Depending on the cause of the lightheadedness, you might feel nauseous or like you're about to vomit. Vertigo, on the other hand, is a feeling that your surroundings are moving, even though they're not. You could feel off-balance in a number of ways. You might feel like you're tilting, falling, whirling, or spinning. Even though dizziness can happen to people of all ages, it occurs more often with older people. Let's look at 21 effective home remedies to help overcome any dizziness you may have.
1. Drink Some Water
One of the main reasons that a person may feel dizzy is because they are dehydrated. If you become dehydrated, one of the first symptoms that you may feel is dizziness. If you do not drink water for a long period of time, chances are that you are not going to feel quite right. Dehydration can cause many health issues such as vomiting or diarrhea. This can create a further loss of fluids, which can create even more problems.
This is why it is important to make sure that you are getting enough water each day. The recommended daily amount is dependent on your weight. A person who weighs 150 pounds needs to drink about 75 ounces of water each day to remain hydrated. If you have dizzy spells and are not in the habit of drinking water regularly throughout the day, you should start. This is often a simple solution to overcome dizzy spells.