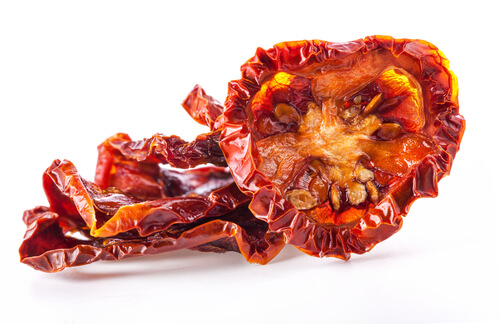 When people think about the vitamins that they need, we all know that Vitamin C is important and most people know that they need to make sure to get their B complex vitamins as well. However, one vitamin that many people tend to overlook is vitamin K.
Vitamin K is a fat-soluble vitamin. This means that in order to make sure that you get the most benefits from vitamin K you need to eat it with some type of fat so the body will be able to use it. This also means that it is important to make sure that you do not consume too much because it does not pass through the body like a water-soluble vitamin, which could result in an overdose.
Here is a list of 21 foods that have a good amount of vitamin K. Including these foods in your diet will ensure that you are getting adequate amounts of it, which is important for maintaining a healthy body.
1. Sun-Dried Tomatoes
Sun-dried tomatoes provide a great source of vitamin K. These tasty treats are easily added to almost any meal. You can put them on pizza, add them to pasta, or even eat them in a salad. No matter how you eat them, you will be getting a wide variety of vitamins and minerals that you need in order to stay healthy.
Some of the other nutrients that sun-dried tomatoes are rich in include lycopene, iron, calcium, antioxidants, and vitamin A. In addition, sun-dried tomatoes have a lot of added oil to them. This means that they have a ready source of fat. This fat will help the body absorb the vitamin K that the tomatoes contain. As mentioned, vitamin K is fat-soluble, which means the body needs added fat in order to absorb it.